Camel Ride Safaris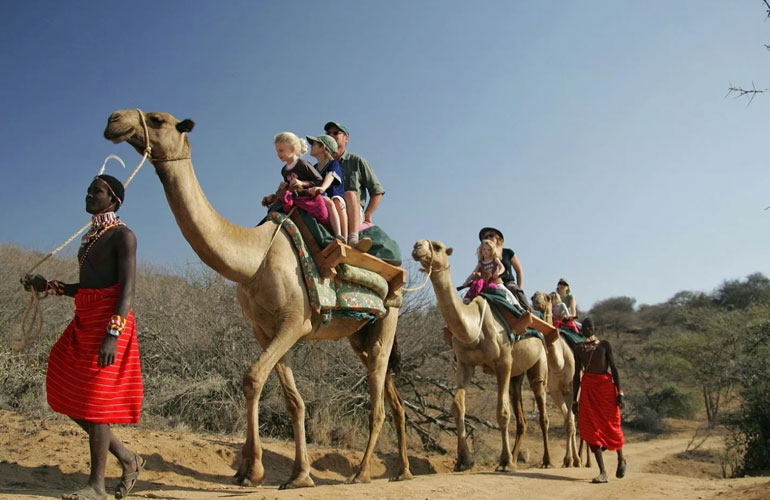 A trip on a camel back through the Maasai land is magical, visitors get a great chance to experience wildlife, Maasai people 'day to day life' and the beautiful scenery
Camel riding adventures are organized at Meserani Snake Park and at Mkuru local Maasai Village. There is variety of activities that you can choose as below:
Day for local Maasai Cultural activities
Traditional medicine course
You will riding on camel to traditional healer of Mkuru, Mzee Elias who attracts Maasai people from many neighbouring regions. He will teach you which plants have healing properties and how they are used. Traditional medicine is still a core part of the country's healthcare. The walk to Mzee's village takes about 1 hour.
Art and craft + Maasai Boma
Then you will visit Maasai women's art & crafts session Visit the cultural boma and learn how to make Maasai jewellery! For this activity, a guide will accompany you to the cultural boma, where you will meet some of the mamas and learn how to make the beaded jewellery. If you choose to buy a few gifts to bring back, you will be contributing directly to this women's cooperative.
Local Maasai School
You will be guided to local school, where you will meet teachers and students and learn about the local education system. After the visit, your guide will tell you the stories of how a young Maasai boy becomes a warrior, and thus an adult. In the afternoon you are free to book another activity, or to simply relax, walk around the camp and do some bird watching. After dinner you will be treated to a traditional youth dance, which the young Maasai practice together for big celebrations such as weddings.
Late afternoon drive back to Arusha
One-day treks & camel safaris
All treks and camel safaris can be done from base camp.
Baboon Cave Safari
The baboon cave is set amongst beautiful surroundings, and every night it hosts hundreds of baboons. In the cave, you will see an example of dams built in colonial days. The cave is a special place for the Maasai. Every year groups of men and boys come to this area for months at a time, and live away from home, with cows and goats to feast on during their stay. They eat only meat and drink no water during their stay. Your guide will show you where they slaughter the cows and store the meat, and how they sleep in the camp.
Departure mid morning, lunch near the cave
Afternoon: visit the area and learn about traditions
Return mid afternoon. If you wish to see the baboons as they return to the cave, you can stay until around 7 pm and walk back by moonlight to arrive at base camp around 8:30 pm for dinner. The baboons are not always punctual, but if you're lucky you might hear and see hordes of them.
Climbing Oldonyo Landare
A 3 hour trek from base camp. From the top of this mountain (Oldonyo Landare in Maasai language means Mountain of goats), you can enjoy panoramic views of Mount Meru, Mount Kilimanjaro, the Maasai Plains and Momella lake. The walk is steep, but the view is worth it!
Departure in mid-morning, lunch on the mountain
On the way down, you'll stop at a Maasai village and visit a boma
Return to base camp in the afternoon.
Mguru archaeological trek
Take a jump back in time. On this walk you will learn about the colonial heritage of the region and the geological history of the landscape. You will come across bone fossils dating back from before Mount Meru erupted thousands of years ago. Near the remains of a colonial dam, you will discover natural water pools in deep canyons where the Maasai still collect water today.
Departure mid morning, lunch near geological site
Afternoon: visit the area and learn about traditions
Return mid afternoon.
2 day/1night. Bush Camel Safari
Leaving from Mkuru Camel Camp and returning to Mkuru Camel Camp.
This is short but intense adventure. You will pass by a baboon cave and plains towards Mount Longido, where you can see zebra and antelope. At night you will eat by a bonfire and sleep in the bush. You will be back at base camp in the afternoon of your second day. Then drive back to Arusha
3day/2night from Mkuru Camel Camp to Longido village
Over three days, you will pass through the plains surrounding Mount Meru, where the landscape becomes wild. With Mount Longido as your guide, you can come across different kinds of antelope, zebra, giraffe, ostriches and many birds. After a cup of coffee at Mkuru Camel Camp, your luggage is packed on the camels and your safari starts.
For the next two days you will have lunch and dinner in the bush along the way, and sleep in a comfortable mobile camp. The safari finishes midday at Longido village on the third day. From Longido, you will meet your vehicle and get transferred to Arusha