Tanzania Food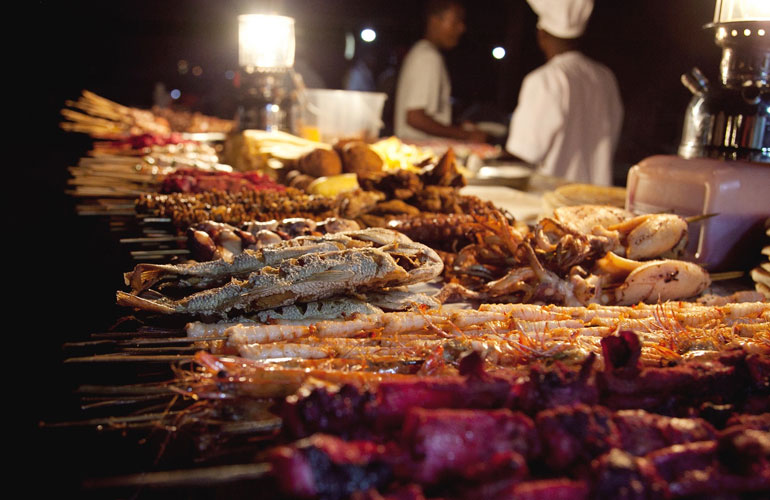 Tanzanian Cuisine is a mix of traditional Tanzania Food, with a strong Arabic/Indian influence, especially along the coast and in Zanzibar. Surrounded by the ocean, Zanzibar is renowned for its seafood with most hotels in the area offering a fantastic variety of fresh seafood menus. For the ultimate foodie experience, visit the Stone Town night food market. Offering a variety of delicious eats, this lively market is a must-see to experience the local people and culture.
Best Dishes To Try In Tanzania
Zanzibar Pizza
Despite the name, this classic Zanzibar dish doesn't have much in common with traditional Italian pizza. It's just as tasty though and you'll find it sold by street vendors all over Zanzibar.
Biryani & Pilau
These popular Indian-inspired rice dishes were originally brought to East Africa by Indian migrant workers. They've since been given a Swahili twist, and you'll taste some of the best biryani and pilau of your life in Tanzania and Zanzibar.
Ugali
Ugali is undoubtedly the most common food in Tanzania and you'll find it served with almost every meal. Made from boiled cornmeal paste, this doughy porridge-like dish is the best thing to mop up sauces and dip into soups and curries.
Chipsi Maya
Swahili for "chips and eggs", chips mayai is one of the most beloved street foods in Tanzania. It's made with hand-cut potatoes, peeled and fried until crispy and golden, then mixed with eggs and cooked to make a kind of omelet.
Mshikaki
It doesn't get more Tanzanian than mshikaki, the skewered pieces of marinated meat (usually beef, goat, or mutton) are slowly cooked over hot open coals. It's best to try it in the evening when street vendors serve it up fresh after a few hours of slow roasting. Be sure to order a few at a time, because you won't be able to stop at just one of these tangy, smoky meat skewers.
Makai Paka
Makai Paka, or corn cobs in coconut curry, is one of the most popular dishes in Tanzania. This tasty dish uses corn, one of the most common crops grown in East Africa, and cooks it in spiced coconut milk. The locals usually serve it over a fragrant bed of rice, for the perfect dish to eat on a lovely summer's day.
Ndizi na nyama
This beloved Tanzanian Dish is made using plantain bananas (ndizi) and meat (nyama), cooked in a stew of curry powder, cayenne pepper, tomatoes, onions, tomato paste, and coconut milk. It's usually dished up with steamed rice or ugali.
Mchuzi wa samaki
Tanzania and Zanzibar are famed for their delicious seafood, and one of the best dishes is mchuzi wa samaki. The locals make this traditional Swahili dish with white fish cooked with curry powder, garlic, onions, tomatoes, and lemon juice. It's then served over a bed of fluffy steamed rice, the perfect side dish to the spicy sauce.