Tanzania Safari FAQs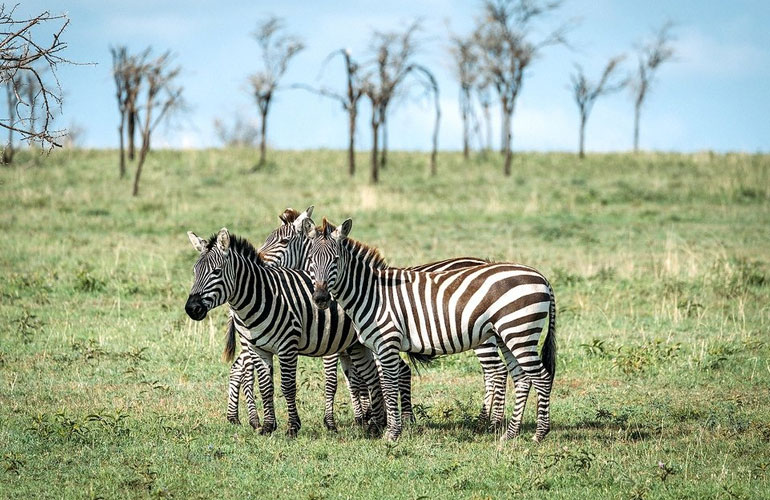 What Official Documents Do I Need To Travel To Tanzania?
Ans: You will require a passport valid for at least six months after your date of entry. If you are arriving from a country in which yellow fever is endemic (such as Kenya), you will require an immunization certificate or health card. Citizens of the UK, the US, Canada, Australia, and most countries in the EU, need a tourist visa to enter Tanzania. Application details and forms can be found on the Tanzanian Embassy websites. As with all visa matters — contact your local Tanzanian Embassy for the latest information.
Is Tanzania safe?
Ans: Tanzania is safe for tourists to visit. Like any other country you're visiting, it always pays to exercise on the side of caution when visiting but for the most part, the locals depend on tourism and are often very open and welcoming.
What currency is used throughout Tanzania?
Ans: The currency used is the Tanzanian shilling. MasterCard and Visa are widely accepted and many ATMs are dispensing local currency throughout the country.
When is the Best time to Visit?
Ans: It's safe to say that Tanzania can be enjoyed at any time of the year. There are sporadic monsoon seasons (April through May and November) but this can be a birdwatcher's dream if they're planning a birding safari! We offer all our Tanzania Safari Tours throughout the remaining months of the year to allow you the best opportunity to see Tanzania's glorious variety of wildlife.
What medical precautions should I take?
Ans: Vaccination requirements occasionally change. We recommend you speak to your doctor or local health department for the latest information on any health precautions or requirements. Generally, we would recommend taking shots against both yellow fever and cholera. As an extra precaution, take anti-malaria drugs before, during, and after your time spent in East Africa. If you are on any prescription medication, ensure that you bring an adequate supply to last the duration of your stay and a copy of your prescription(s).
Do I need personal travel insurance?
Ans: The short answer is yes. Traveling in any part of the world has its risks and coming to places like Tanzania is no exception. It's always a good idea to ensure you are covered for any type of emergency and here we've broken down the specifics on Climbing Kilimanjaro and what type of insurance you will need.
In your insurance policy, you must make sure it covers helicopter evacuation. You must also ensure it covers the costs of flying home should you miss your scheduled flight due to accident, injury, illness, or some unpredictable back luck.
Your insurance must specifically include cover for you to climb up to 6000 meters and also protects against the 'standard' travel dangers including baggage delay, loss of personal items, etc.
Please read every policy carefully before purchasing, especially the small print as some policies may have exemptions or fine print that would make your insurance void.
What should I wear on safari in Tanzania?
Ans: Dress as comfortably as you can. It is often warm on the plains and at lower altitudes but cold in the hilly and mountainous areas; a rain jacket, fleece, and good quality walking shoes/boots are essential. See our safari tour pages for a full list of what to bring! Word of advice: light or neutral colors are best worn on safari, as tzetze flies are attracted to dark colors.
How long does a Safari take?
Ans: A Tanzania Safari can be enjoyed from 2 days to 5 days, depending on the time you have in the area and the locations you wish to visit. All of our safari tours have unique highlights. We recommend taking a look at each of the tours and seeing which one suits you the best but remember, the more time you spend on safari, the richer the experience you're going to have!
Who will be my Safari Guide?
Ans: All of our certified, English-speaking safari guides are experts in their fields. Each one of our guides has a wealth of knowledge and experience in the areas we visit, the animals we see, and, of course, creating unforgettable experiences with the guests who join us on Tanzania Safari!
When is the best time to visit the Great Migration?
Ans: The Best Time To See The Migration In Tanzania is normally January-March and June-August. We recommend booking as far in advance as you can as it's a spectacular sight and, in turn, very popular. But don't worry, if you can't make it to see the migration, there is a wealth of wildlife to see all year round as the areas we visit are permanently home to over 25,000 mammals (lions, baboons, elephants, rhinos, etc) and over 500 bird species.