Hot Air Balloon Safaris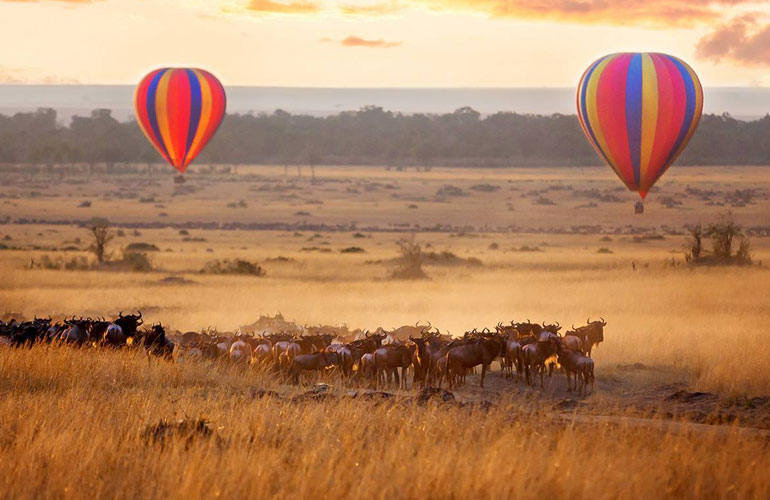 Serengeti Balloon Safaris are romantic and evocative way of experiencing the wilderness of Serengeti as you silently fly over the plains of Serengeti teeming with herds of wild life in the early morning. Normally, a balloon begins between 6 a.m. and last for around 1-2 hours. Balloon Safaris are held regularly only in the Serengeti and take off from designated sites (in the Seronera area) where the disturbance to animals is kept to a minimum. Your safari vehicle drops you off at the takeoff site and picks you up from your landing site. The safari is followed by champagne breakfast in the bush, a fitting end to your memorable flight in the wild.
Balloon Ride
5.00 AM, Serengeti Balloon Safaris will collect you from your central Serengeti lodge or camp, and transfer you by Landover to our launch site near Maasi Kopjes. Here you will meet your pilot, receive a briefing and watch the inflation of your balloon.
At dawn we take off, rising as the sun and float in whichever direction the winds of the morning take us. Your pilot can precisely control the altitude of your balloon, sometimes flying at treetop height, sometimes lower, offering a unique perspective and great photographic opportunities of the wildlife below.
At other times he will ascend to 1000 ft. (300m) or more to see the enormity and wonderful panorama of the Serengeti. From time to time the pilot increases more heat into the balloon with the powerful whisper burners. In between these burns, there is silence apart from the natural sounds below.
The flight is for about one hour depending on conditions, on landing you celebrate in the traditional manner with champagne ( well, an excellent sparkling wine), before sitting down to a full well prepared breakfast served in the bush in 'Out of Africa' style with bone China, linen table cloths, King's silver etc
After breakfast you receive your Serengeti Balloon certificate and we drive you back to Seronera Lodge game viewing enroute 9:30 am arrive at Seronera ready to continue your day's activities.
Important Note:
This adventure will fit in with all safari itineraries that include a night in central Serengeti (Serena Lodge, Seronera Lodge, Sopa Lodge. Mbuzimawe Camp or any central Serengeti Campsite) or Western Corridor Camps (Grumeti River Camp, Kirawira Camp, Mbalageti Camp)
RESTRICTIONS: Children under the age of 7 Years are not allowed on the balloon.