Lake Manyara National Park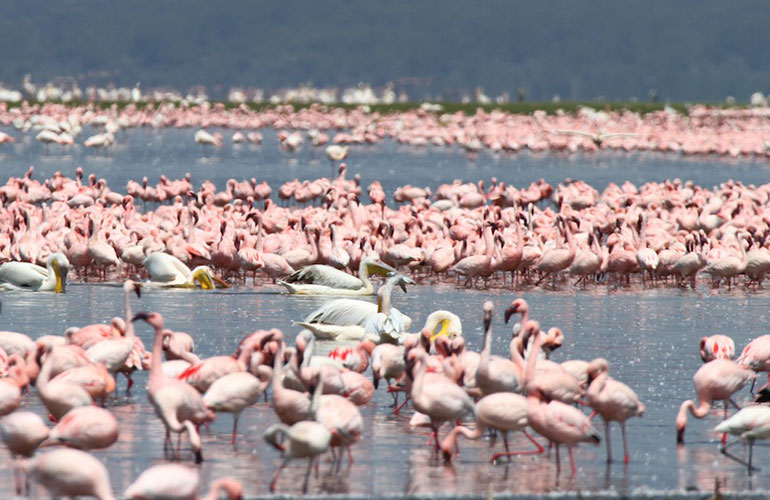 A large lake that is home to exceptional wildlife, thousands of birds, and a primary forest. The Lake Manyara National Park encompasses the northern half of the lake and its western shore, which ends a few miles from the escarpment. The distant sight of flocks of birds on the hazy horizon is unforgettable. Herons, egrets, ospreys, ibis, pelicans, jacanas, and plovers are just some of the 380 species recorded. Lush vegetation greets visitors as they enter the park, where towering trees take advantage of the rich volcanic soil and porous rocks help underground streams reach the roots. Those lucky enough might even see baboons gathered in troops of between 30 and 100. The park is also home to impalas, giraffes, buffaloes, and zebras.
Lake Manyara is the smallest of the four parks that make up the Northern Circuit. With a huge proportion of the park consisting of the lake itself, its famous tree-climbing lions seem to have gained almost mythical status.
Lake Manyara National Park is one of the busiest parks in the country as it is just off the main road to the Ngorongoro and the Serengeti, so many tourists stop off en route to the larger parks. We tend to use Manyara for short introductory game drives, but we deter travelers from spending longer here – the park is too busy and the game-driving network too small for long stays.
Best Time to Visit:
When going on holiday to Tanzania the chances are the trip aims to either go for a safari or to the beach or both. As a general rule of thumb, the best time to be in Tanzania on safari is in the dry season from July – to October when the weather is dry and sunny. As the parks dry out, the bushes become less dense and the animals are easier to spot because of this, but also because they are forced to congregate to the remaining water holes. There are short rains in November (which sometimes trickle through into December, January, and March) before the long rains which come in April and May. However, this is not to say December, January and February are not still excellent times to be in Tanzania
Activities:
Game Drive
Night Game Drive
Canoeing
Wildlife Viewing
Forest Walks