Kilimanjaro FAQs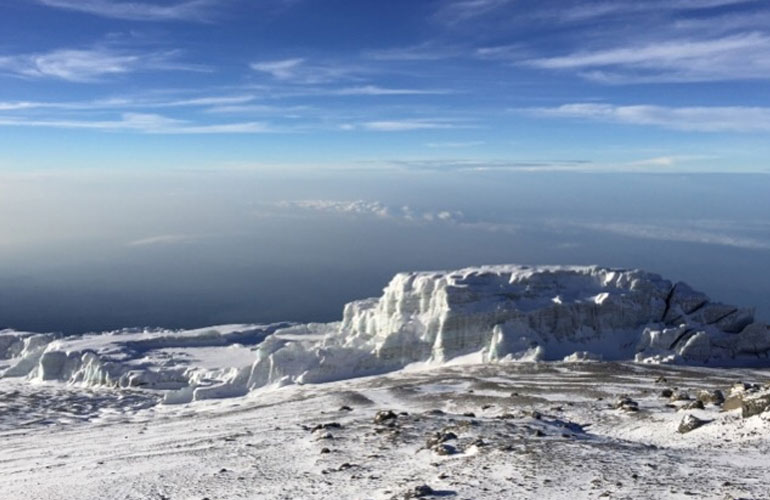 Where is Kilimanjaro?
Ans: Kilimanjaro is located in Tanzania, Africa. It has three volcanic peaks: Kibo, Mawenzi, and Shira. It is Africa's highest mountain and the tallest free-standing mountain in the world. It stands at a staggering 5,895 meters (19,341ft) above sea level and roughly 4,900 meters (16,100ft) above its plateau base. Most people fly into Kilimanjaro airport and then transfer to Moshi, Tanzania where you will meet up with your guide before making the climb.
When is the best time to climb Kilimanjaro?
Ans: The area surrounding Kilimanjaro is under monsoon conditions during April and May, and one shorter season in November. We consider this as our tour availability ranges from January through mid-March, mid-June through October, and then December. Outside the monsoon season, the weather is typically dry and clear.
How hard is the climb?
Ans: If you're in fairly good shape and a regular climber, it can be an 'easy' climb when the weather is on your side on particular routes. It's all relative and very much depends on each individual. But, like with most of the extreme altitude climbs, Kilimanjaro can have brutal summit weather with strong winds and freezing temperatures.
Can you tell me a little bit about the acclimatization process?
Ans: Acclimatization occurs differently for everyone. There have been occasions when some ultra-endurance athletes have succumbed to the altitude change, while others, with less athletic abilities, have summited with no difficulty at all. Again, it's very much relative. Do your best preparation, eat well, stay hydrated, train your body to the best of your ability, and if possible, choose one of the longer routes that allow extra time for acclimatization. That is the best way to achieve the summit of Kilimanjaro.
Some doctors recommend taking Diamox, which is a medication to help with the acclimatization process. This is a personal choice, so please be sure to do your research and choose what you think will be best for you. While we don't endorse any particular prescription or supplement, we can say from personal experience, Diamox does seem to help. Again, please check with your doctor before making any medical decisions.
What are the main differences between the routes?
The Rongai, Northern Circuit, Lemosho, and Machame routes are camping routes that take longer and are considered more scenic than the Marangu. On the Marangu route, you will be staying in huts as opposed to camping, and you hike up and down the same path. The Rongai route takes you up the north side of the mountain and you descend the Marangu route. The Lemosho and the Machame routes traverse the mountain and descend the Mweka route. Please see our Mt. Kilimanjaro page for more information.
Northern Circuit Route: Please note that an additional night can be arranged to sleep at the crater rim. This option is best during the drier season from January through March as you spend an unforgettable night under the stars in the shadow of the glacier. The additional time spent at high altitudes in cold conditions can be very challenging, so this add-on is only recommended for the most serious of adventure enthusiasts. Simply contact us if you're interested in the extra night.
What gear do I need for the climb?
Ans:
Bottom thermal layer
1-2 pairs of hiking pants
1 hardshell jacket
1-2 short-sleeved t-shirts
1 pair of warm trekking pants
1-2 long-sleeved hiking shirts
1 softshell insulated winter jacket
4-5 pairs of underwear
1 cozy fleece jacket
1 pair of worn-in sturdy hiking boots
3-4 pairs of socks. Merino wool is recommended
Raincoat
Rain pants
Day backpack
Duffel bag (recommended size 90L)
Sleeping bag
Headlamp
Snacks
What is the accommodation like?
Ans: On the Marangu route, trekkers stay in huts. Each hut has a dining room for eating as well as separate bathroom facilities (you'll either have flushable toilets or pit latrines). There is no electricity in the huts. On the Rongai, Northern Circuit, Machame, and Lemosho routes, trekkers camp up! On the camping treks, porters set up the tents with comfortable foam sleeping pads. They also set up and maintain a private toilet tent at each campsite. Hot water will be provided for washing.
Is drinking water provided?
Ans: Water is available throughout the trek from top to bottom. Water is taken from the mountain streams, boiled, and treated to make it safe to drink.
Do we carry our luggage on the trip?
Ans: You will not be responsible for carrying your luggage up Kilimanjaro. The porters can carry approximately 30lbs (15kg) of your luggage; the rest can be stored safely at the hotel. You will only be responsible for carrying your day pack with the essential and personal items you need to have with you at all times.
Can we leave excess luggage behind?
Ans: Absolutely. Your bag will be weighed before we start the trek and anything that needs to be left to make the 15kg limit, will be safely stored at the hotel awaiting your return.
What happens before and after the trek?
Ans: On all of our Kilimanjaro Climb, we'll come and collect you from Kilimanjaro International Airport and then transfer you to your hotel in Moshi, Tanzania. You will then stay overnight and in the morning, we'll drive to the gate where we will start our Kilimanjaro Climbing. Once we have finished our trek, we will be transferred from Kilimanjaro National Park either back to the hotel in Moshi or taken straight to the airport—depending on your plans! (We recommend taking a day's rest in the hotel so you can get a hot shower and a well-earned, ice-cold beer).